RVs have exploded in popularity and the ever-changing technology they have to offer continues to blow us away, with offerings like outdoor kitchens helping to greatly expand the functionality and enjoyment your RV can provide your family. 
Because RVs are a very personal space, everyone has their own needs – even for their outdoor kitchen!
We've put together this list of the best RV outdoor kitchen mods you need to consider when creating your perfect cooking space.
---
Add An Outdoor Sink And Table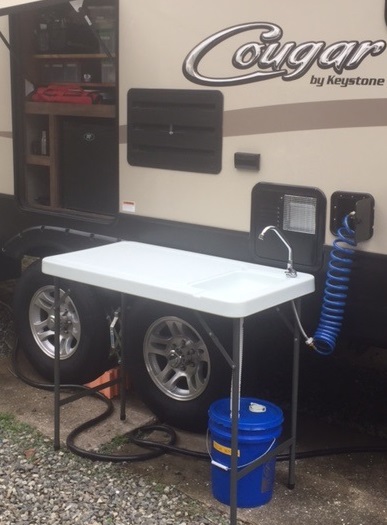 Some RVs and toy haulers don't come with an outdoor kitchen, but they may have a recess for an outdoor TV or storage.
One option is to get a fish cleaning table that includes a sink, and install a quick connect shower faucet, hooking it up to the table when you need running water.
You'll need to be comfortable cutting into the side of your trailer when doing this and you can use a vibrating tool to get the job done with clean cuts.
The other option is to run a hose from the outdoor shower to your sink's faucet if you're not okay with cutting into your camper.
You can keep a 5-gallon bucket for catching the waste water from the sink.
All in all, this is an inexpensive RV outdoor kitchen modification that will get you running water outside.
Substitute An Electric Frying Pan For Your Griddle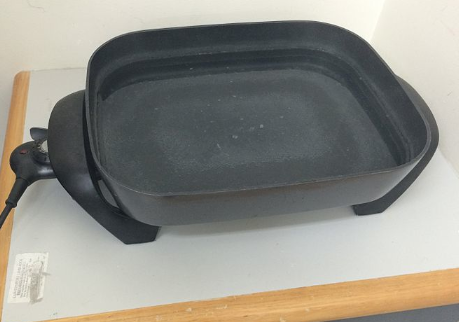 Don't have a sweet outdoor griddle, or maybe the weather isn't cooperating?  Grab an electric frying pan with a lid to cook your bacon or sausage.
It fits easily on most outdoor tables due to it's small footprint and hooks up easy to your electric.
If using it inside, just use it under your vented fan on the stove inside with the fan on and you're cooking!
---
Road-Proof Your Fridge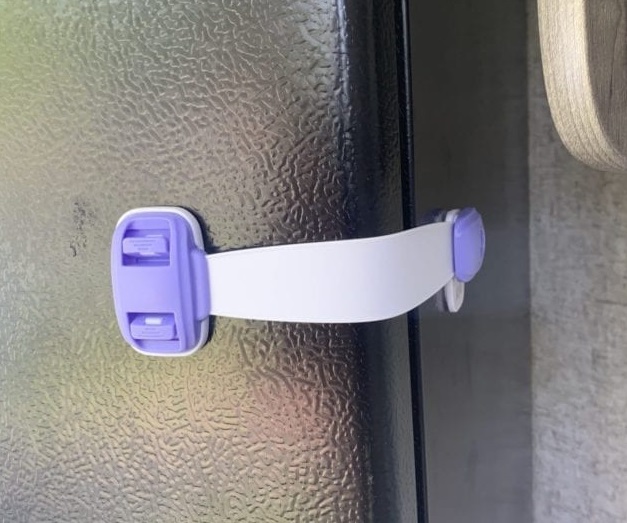 Sometimes if you have a lot of cans or bulky items in your fridge, the door can get jostled open and cause a spill or keep the fridge door open, allowing all your stuff to get warm.
A cheap and easy fix is to take a childproofing strap and secure it to the fridge door – this takes only a minute and will prevent future fridge problems while you're on the road.
---
Critter-Proof Your Outdoor Kitchen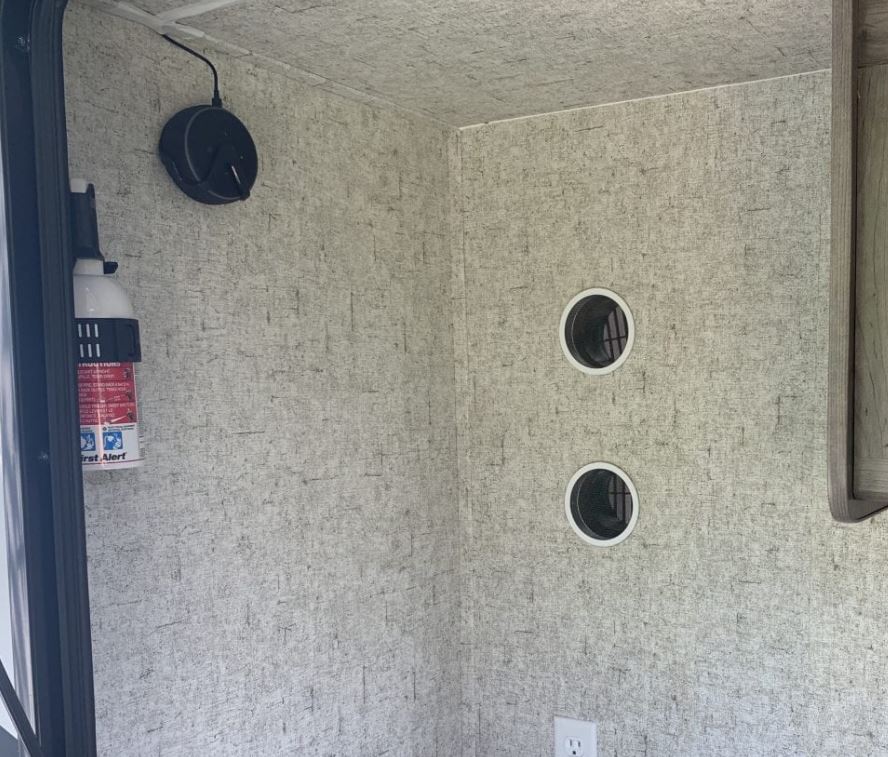 Some outdoor RV kitchens have vent holes for the refrigerator so it can run with the outside door closed, or other holes under the grill slide to allow wire runs.
Unfortunately, these holes are perfect for mice and other pests to get in to, so you'll need to cover them with round screen vent plugs or with an expanding insulating foam. 
---
Upgrade Your RV Grill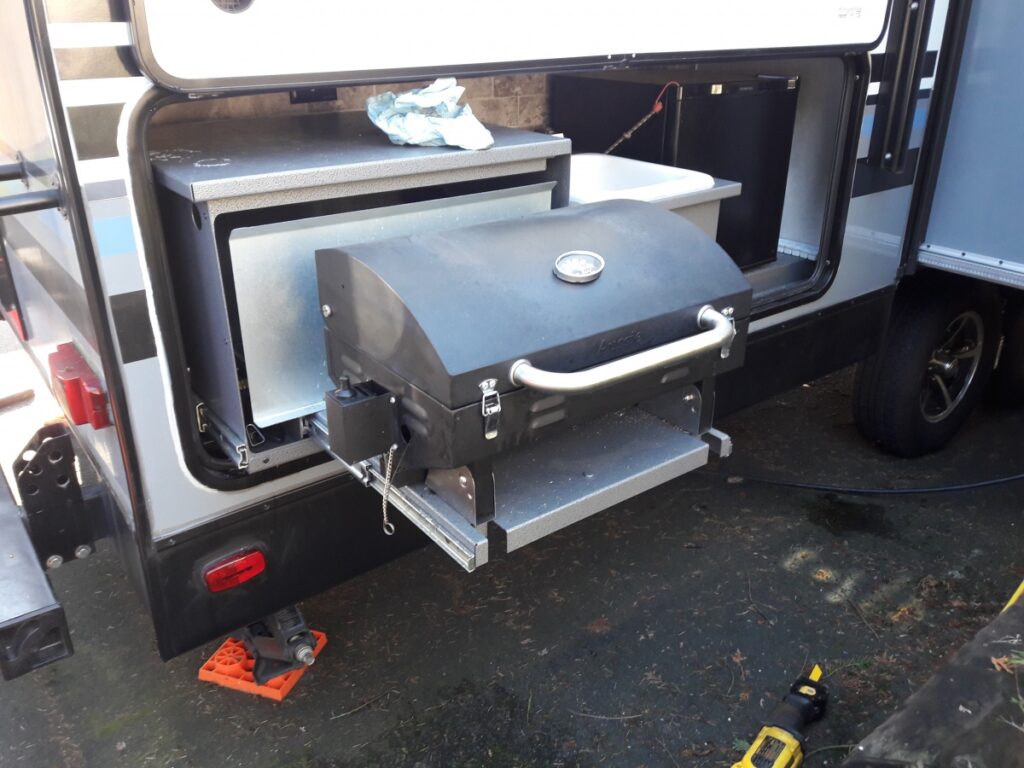 Many of the off-the-line RV accessories like outdoor grills aren't always the best, so you will get a lot of bang for your buck by swapping out the stock grill in your RV outdoor kitchen.
Just make sure the grill you get can fit on the slide-out brackets and isn't too tall or wide for the grill compartment.
As long as it'll fit within those dimensions, you can use L-brackets to keep the grill in place on the slides so you can get a higher quality grill experience.
The images above are from someone swapping out their grill with a griddle, but the same process applies.
---
Turn Your Outdoor Grill Shelf Into A Multi-Purpose Table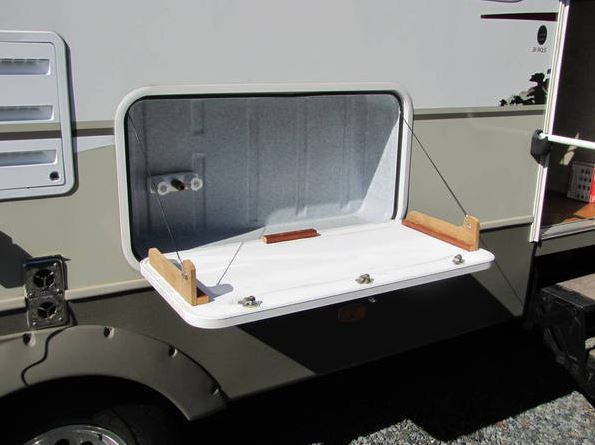 Some outdoor grills fold up into the side of the RV when not in use, which is handy, but this is multi-purpose space that's begging to be used in different ways for extra convenience.
Many grills sit in a plastic shelf/tub combo that may have a sink or basin embedded in it, too.
Remove the shelf from the supporting swing-out door and add some braces to hold whatever else you're using in place.
Now that the "tub" or plastic stove holder is free from the door, you can now use it as a spot to cook on a griddle or to put a TV on for outdoor use.
---
Make Your Own Customized Kitchen Galley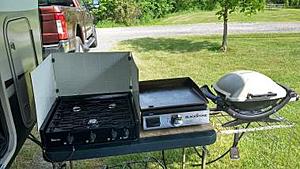 We love the level of customization RVers are willing to go to with their RV outdoor kitchen mods, and one of the best ways is by taking a standard camp or small folding table, and setting up the underbelly to connect to the low pressure propane outputs on your camper.
The trinity of the griddle, Weber Baby Q grill, and a 3-burner propane stove makes sure you can handle any cooking situation thrown at you when you're RVing!
---
Uplevel Your Outdoor Stovetop
Many RV outdoor stovetops are weak and lots of folks don't like cooking quite that close to the trailer.
Many RVers love the 2 Burner Camp Chef stovetop and a small portable BBQ like the Weber Baby Q for a great multi-purpose setup that you can park on a table a safe distance away from your RV.
As a bonus, you can just get a griddle top like the Camp Chef XL Griddle that fits right on your two burner stovetop.
---
Add A Slide-Out Grill To Your RV Outdoor Kitchen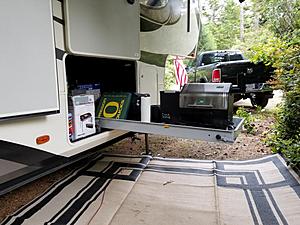 The Big Green Egg MiniMax, Weber Baby Q, Traeger Scout, and Weber Q 2200 are all RV favorites for grilling.
You can add a belly storage slide in your lower storage compartment and mount the grill there for slide-out use.
Add some backer board and foil liner as a heat shield in the slide, and once the grill is cool you can easily push it back in.
Drill a hole and add a funnel/hook combo underneath for a bucket to catch drippings.
---
Expand Your RV Outdoor Kitchen Cooking Options With A Griddle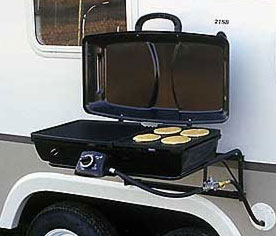 RVers rave about the 22" Blackstone griddle for it's easy cooking options and plenty of surface space.
If you don't want to go with a dedicated griddle, you can easily get a griddle cooktop to use on your outdoor stove to make some mean breakfast meals.
---
Make It Easy On Yourself With Outdoor RV Kitchen Gadgets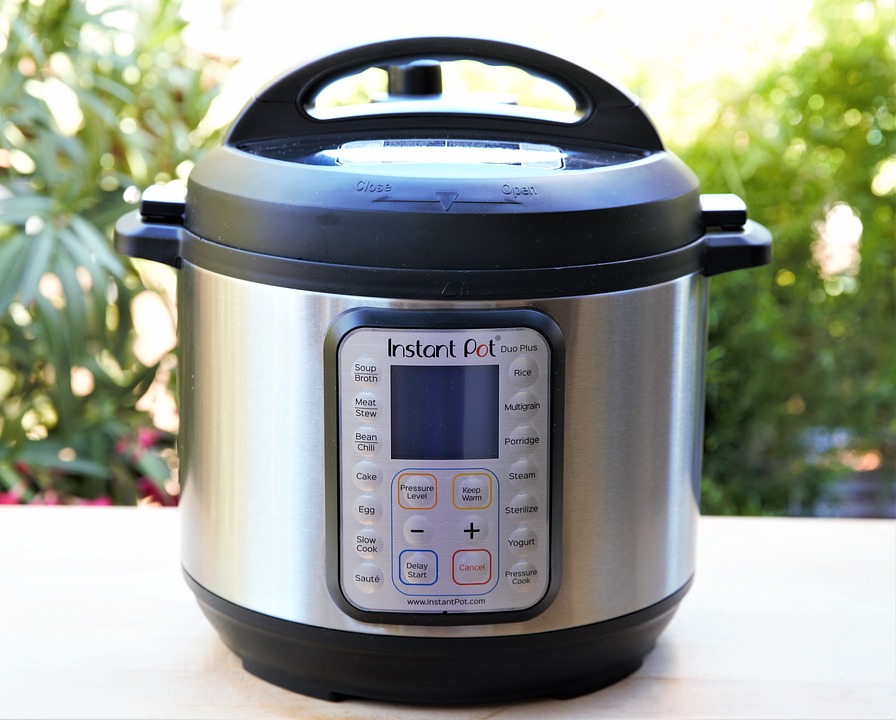 There are plenty of ways to cook food outdoors when enjoying your RV, and luckily there are so many gadgets out there to take advantage of.
One of the easiest and most affordable RV outdoor kitchen mods you can do is add an Instant Pot, air fryer, or tabletop ice maker to your setup!
The bonus on these items is that they can be used both indoors and outdoors for extra convenience.
---
Create An RV Kitchen Kit Or Chuck Box To Organize Everything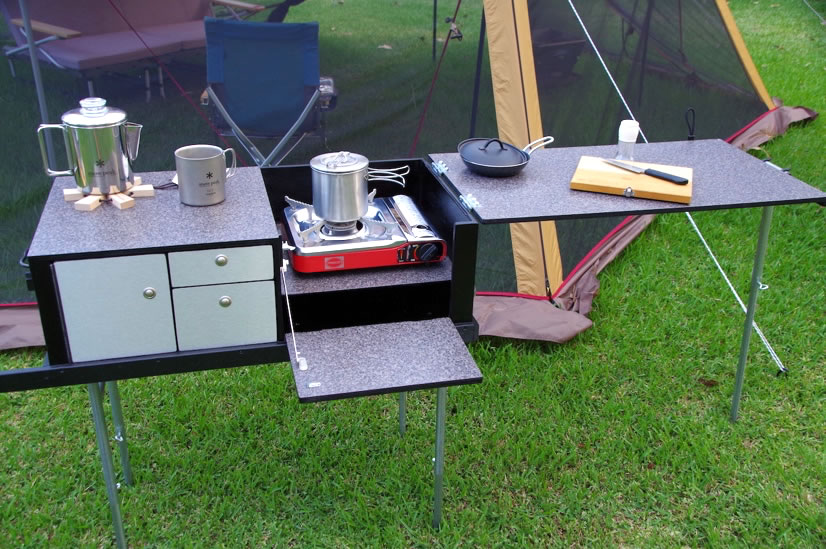 We've seen people create chuck boxes (aka kitchen organizers) out of everything from cabinets mounted on sawhorses, to front-opening toolboxes, to all-wood options.
The main thing here is that it gives you a space to easily set up your outdoor RV kitchen quickly and have access to all the stuff you need like spices, pots, pans, utensils, and more, and then can go back into storage in a snap.
Look online for chuck box plans and make sure whatever route you try has lots of drawers and storage space, and that the chuck box will fit in your designated storage area.
Easy Add-Ons To Up Your RV Outdoor Kitchen Organization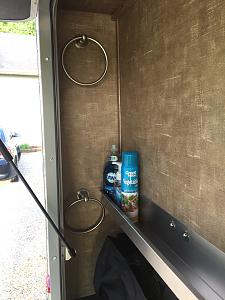 Adding simple items like spice racks, towel holders, and collapsible bowls and measuring cups will make your RV outdoor cooking experience that much better.
What's great is that these additions are super affordable and very easy to accomplish!
---
Wrapping Up Our Guide To The Best RV Outdoor Kitchen Mods
We hope you're inspired by these easy ways to upgrade your RV's outdoor kitchen.
Let us know what mods you picked and share your experience in the comments below.