One of the most essential and fun parts about any camping trip is gathering around the campfire to cook and eat, and to do that you're going to need a campfire cooking kit.
There are hundreds of options of campfire cooking equipment available, making the process of choosing a camping cooking kit difficult.  Don't worry – we're here to help.
The 7 Best Campfire Cooking Kits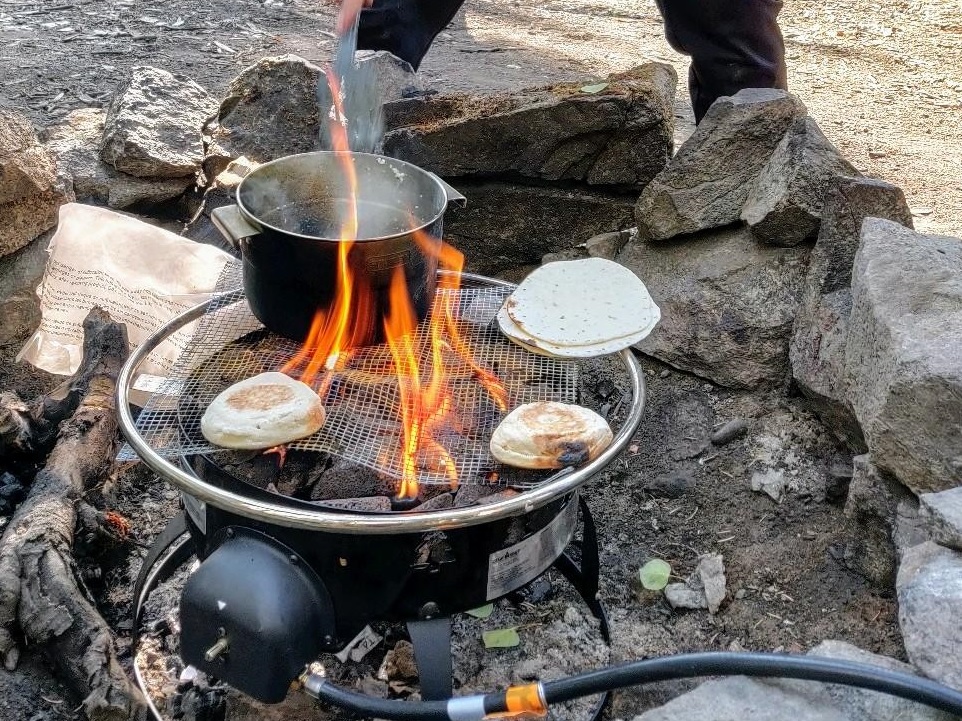 We tested and reviewed dozens of open fire cooking equipment sets and only the best options made the cut for this roundup.
In addition to a lineup of our highest-recommended campfire cooking kits, we also want to make sure you understand the basics about this gear.
To make sure you're ready for any campfire cooking situation, make sure you consider the following:
Size & Weight: If you're backpacking or hauling your campfire cooking gear to a far-off campsite, cutting down on weight and size will be critical.
Materials: Make sure your camping cooking kit is made of rugged materials that can handle the demands of camping and that can be used over an open flame like a campfire.
Your Intended Use: It's important to select a campfire cooking kit with the right gear so you can prepare the kinds of foods you want to cook while camping.
Read More: Campfire Cooking Kit Buying Guide
You'll also want to know about durability, value, and versatility, which we'll cover later in this guide.
Here are the best 7 campfire cooking kits:
Stanley Base Campfire Cooking Set For 4
Stanley Base Camp Cook Set for 4 | 21 Pcs Nesting Cookware Made from Stainless Steel & BPA Free Material | Incl Pot, lid, Cutting Board, Spatula, Plates, Spoons, Forks, Bowls, Dish Rack, Trivet
21 NESTED COMPONENTS: (1) 3 5L pot, vented lid, (1) 7" 3-ply frying pan, (1) cutting board, (1) spatula, (1) serving spoon, (4) 6" plates, (4) 22oz bowls, (4) sporks, (1) dish drying rack, (1) heat resistant trivet, (1) locking bungee
TOUGH AND DURABLE: Manufactured using 18/8 stainless steel this cooking set is strong, scratch proof and rustproof No maintenance other than washing is required, making this cookware easy-to-use and reliable for every trip
SPACE SAVING: This comes fully loaded with 21 different pieces that can cook meals for small or large groups without taking up too much space The kit all nests together (instructions are engraved in the lid), making this compact and easy to transport
EASY TO CLEAN: You should spend your time adventuring, not cleaning – that's why we've made our cookware easy to clean A basic clean needs just soap and warm water or a paper towel while steel wool can be used for deeper cleans
The Stanley Base Camp Cook Set for 4 topped our list thanks to its combination of value and versatility.
This 21-piece stackable kit contains all the open fire cooking equipment you'll need, including a pot, frying pan, cutting board, utensils, plates, campfire cooking tools, and other conveniences.
This campfire cooking kit is made of 18/8 scratch proof and rust proof stainless steel, so it's durable and can hold up to prolonged camping trips and lots of use.
The best thing about this campfire cooking gear package is that it all nests together in a space-saving and easy to carry container, adding to the overall convenience.
Specs:
Weight: 5.7lbs
Dimensions: 11.06" L x 6.1" W x 10.9" H
What's Included:
3.7QT / 3.5L campfire cooking pot
7" 3-ply frying pan with locking handle (holds 32oz / .94L)
Spatula with extending handle
Serving spoon with extending handle
4 6" plates
4 Bowls (holds 22oz / .65L) 
4 Sporks
1 Dish drying rack
1 Trivet / Hot pad
1 Locking bungee
Why We Like It:
Lightweight and compact.
Affordable, durable, and versatile.
Lifetime warranty.
BPA-Free and dishwasher safe.
---
MSR Flex 4 Complete Campfire Cooking Equipment Set
Sale
MSR Flex 4 Group Camping Cook Set
Full-featured cook set for groups of four or more for camping, backpacking, tailgating or road trips
Large 5.3 Liter, dual-handle, hard-anodized aluminum pot with a strainer lid for cooking big meals and boiling water
Second pot is a 3.2 Liter non-stick aluminum sauce pan with a strainer lid and a removable, folding Talon handle
Strainer lid enables campers to strain food without a collander; serve meals in the four deep dish plates and four polypropylene insulated mugs
Camping cook set components nest together to pack down to 12x6.25 inches; weighs 3 pounds 10 ounces
The MSR Flex 4 Complete Campfire Cooking Kit packs a lot of value into a lightweight and high-capacity campfire cooking set that can tackle nearly any campsite cooking situation.
This kit includes nearly all the campfire cooking gear you'll need with two pots with lids, plates, mugs, and a pot handle.
Bring your own camping utensils and you're good to go!
The aluminum pots conduct heat evenly, cook efficiently, and are easy to clean.
Specs:
Weight: 3lb 11oz
Dimensions: 9.3" L x 9.3" W x 6" D
What's Included:
5.3L Dual-handle hard-anodized aluminum cooking pot
3.2L Nonstick hard-anodized aluminum pot
2 Aluminum strainer lids
4 DeepDish plates (they work great as a campfire plate or bowl) 
4 10.2oz Insulated mugs (separately colored to tell them apart)
1 Pot handle
Why We Like It:
Lightweight and packs lots of items into a small form.
Limited lifetime warranty.
Separately colored mugs help you tell everyone's drinks apart.
DeepDish plates are great for any type of food- even soup or chili.
---
Bruntmor 7-Piece Heavy Duty Cast Iron Campfire Cooking Set
Sale
Bruntmor Camping Cooking Set Of 7. Pre Seasoned Cast Iron Pots And Pans Dutch Oven With Lids For Outdoor Comefire. Grill Cookware Skillet Sets With Storage Box
High Quality Material : Bruntmor always beleive in using best Quality material in their Products and likewise these are made up of high Quality Cast cast iron
Easy to Use and Carry : These products very easy to use and carry with the help of Travel Bag which makes your camping experience better and worth remembering. These are compatible with Stovetops, gas , Oven Safe
Non-Stick Pans : Dutch Oven , Griddle Pan , Frying pan and Kettle are Non Stick and Doesnt leave any stain. Any kind of Oil can be used to grill and fry the food
Eye Catching Design : These Products are Designed keeping travelers need and their requirement. we designed this camping kit with love and affection
The Bruntmor 7 Piece Heavy Duty Cast Iron Campfire Cooking Kit is great for cooking over an open fire thanks to it's high-quality and rugged cast-iron construction.
You can throw nearly any demand at this kit and it can handle it, making it a great candidate for cowboy campfire cooking equipment as well.
It includes a skillet, dutch oven pot, saucepot, griddle, and a few other conveniences you'll love, and can be used over a campfire, on burning ash, on any grill, in the oven, or with any type of stovetop (induction, gas, and electric), making this set extremely versatile.
Speaking of convenience, all the cast-iron campfire cooking equipment in this set comes pre-seasoned and is non-stick for easy cleanup once the meal is over.
It all comes in a rugged wooden carrying box which doubles as a campfire cooking prep surface or stool, which is an added bonus.
Specs:
Weight: 39.2lbs
Dimensions: 23.19" L x 14.49" W x 10.79" H (dimensions of wooden carrying box)
What's Included:
12" Cast iron skillet
4.5qt Dutch oven pot
2.5qt Saucepot
20" x 9" Heavy-duty reversible cast iron griddle
8.6" Trivet
Dutch oven lid lifter
Why We Like It:
Tons of uses and versatility at home and while camping
Safe for cooking over an open campfire or on burning ash
Pre-seasoned and non-stick cast iron construction
1 Year Warranty
---
Bisgear 15 Piece Campfire Mess Kit Cooking Set
Bisgear Camping Cookware 18/8 Plates Outdoor Stove Kettle Pot Pan Mess Kit Stainless Steel Cup Utensil Backpacking Gear Bug Out Bag Cooking Picnic Cookset for 2 Person (Black -Upgraded)
BUILT TO LAST! : Highest Quality Anodized Aluminum Camping Cookset & Stainless Steel Cup Plates Utensil (instead of other plastic dinnerware) is survival gear that is built to last and is perfect size for 2 youth scout or adult hiker backpacker.
SAVE MONEY/COMPACT: The camping cookware set includes 1x pot, 6.8x3.6", 1x frying pan, 7.1*1.7", 1x 0.8L kettle , 2 x 7" Stainless Steel Plates, 1x soup spoon, 1x bamboo spoon, 1x cleaning sponge, 3x BPA Free Bowls, 2 x FOLDING STAINLESS STEEL SPORK/SPOON, 1 x Rice Ladle, 1 x Dishcloth, 1 x net bag for storage, 1 x D-shaped buckle [This is a very compact mess kit, please note the size]
All-in-1 Small Package - All piece nest great, and everything is stacked together and packed into a nylon mesh bag. The package size measures 7.5x7.5x5 inches. You should definitely consider this set for both backpacking as well as traditional camping
Enjoy Cooking Anywhere You Go: This awesome cookware kit is designed for anyone loves outdoor camping with families and friends! It is super-portable, making it much more convenient for camping, hiking, backpacking, picnic and other outdoor activities!
Perfect for 1 to 2 People - The pot is of 1.9L capacity, the fry pan is of 5.7'' diameter and the kettle is 0.8L. This camping pots and pans set will be great not just for boiling water but meal prep too. Fully equipped and made for 1 to 2 people.
The Bisgear 15-piece campfire cooking gear kit packs a lot of essentials into an extremely affordable package that will fit campfire chefs no matter their budget.
This kit includes plenty of campfire cooking equipment including  a pot, pan, kettle, plates, bowls, eating utensils, cooking utensils, and more.
The anodized aluminum keeps this camping cooking kit lightweight, and everything stacks together so it's easy to transport.
 Best of all, it all goes into a mesh carrying back and you can clip it onto your gear with the included carabiner for ultimate convenience. 
Specs:
Dimensions: 7.1" W X 7.1" L X 5" H
What's Included:
Cooking pot
Frying pan
Kettle
2 plates
3 plastic bowls
1 folding scoop
Pot cover
Wooden spoon / stirrer
2 telescoping/locking sporks
Carabiner clip
Towel gourd / dish sponge
Mesh carrying bag
Why We Like It:
Extremely affordable
Great camping cooking kit for 2 people
Comes with useful campfire cooking tools you'll need
---
Stanley Even-Heat Camp Pro Camping Cook Set
Stanley Adventure Even-Heat Camp Pro Cookset
CAMP LIKE A PRO: Everything you need to whip up a hearty meal This 11-piece camping cookware set includes a 4 75qt stock pot, 1 9qt saucepan, 8 5" frying pan, vented lids, collapsible cutting board, spatula, spoon, two trivets, and locking bungee
EVEN-HEAT DESIGN: We've crafted the cooking pots and pans with a unique, multi-layer bottom The result? Even heating over campfires, stove tops, and grills The whole camping coking sets nests together to save on space
LEGENDARY STANLEY QUALITY: Whether you're camping, hiking, backpacking, or tailgating, these outdoor cooking accessories withstand all the adventure The dishwasher-safe pots and pans are made using 18/8 stainless steel that won't rust or break
PERFECT GIFT: Looking for the best gifts for outdoorsmen? A Father's Day, Christmas, or birthday gift for the man obsessed with nature? The Stanley Even-Heat Camp Pro Cookset is just what you need to celebrate the occasion
If you're looking for pro-grade campfire cooking equipment, then the Stanley Even-Heat Pro Cookset is the way to go.
This campfire cooking set skips the personal place settings (like plates, utensils, and cups) and focuses solely on providing high-quality campfire cooking gear that will help you create great meals over an open flame.
This set features a lifetime Stanley warranty and dishwasher-safe equipment with locking pot handles for extra convenience.
The 18/8 3-ply stainless steel is durable, versatile, and cooks food more evenly than thinner campfire cooking equipment does.
This is heavy duty campfire cooking gear for serious campfire cooks.
Specs:
Weight: 8.2lbs
Dimensions: 11.6" L X 6.7" W X 10.3" H
What's Included:
1 18/8 Stainless steel stock pot (4.75Qt / 4.5L)
1 18/8 Stainless steel sauce pan (1.9Qt / 1.8L)
2 Vented lids
1 Frying pan (8.5" diameter)
1 Collapsible cutting board
1 Spatula with 2-piece handle
1 Spoon with 2-piece handle
2 Trivets
1 Locking bungee
Why We Like It:
Compact form factor fits a lot of extremely useful items
Food heats evenly
Dishwasher safe, 3-ply stainless steel is extremely durable
Backed by Stanley's Built For Life Lifetime Warranty
---
Odoland 10 Piece Camping Cookware Kit
Sale
Odoland Camping Cookware Mess Kit, Lightweight Pot Pan Kettle with 2 Cups, Fork Spoon Kit for Backpacking, Outdoor Camping Hiking and Picnic
Best Money Ever Spent: The 10 pieces hiking cooking gear includes 1 aluminum non-stick pot + 1 aluminum non-stick frying pan + 1 tea kettle (0.8L) + 2 stainless steel cups (4 oz) + 1 serving spoon+ 1 fork + 1 knife + 1 carabiner + 1 carrying bag.
Heat-Resistant Handles: Thermally insulated plastic handles keep your fingers safe from the heat; anti-slip design offers a firm and comfortable grip in your hands.
Non-Stick & Incredibly Durable: Each piece has a non-stick Teflon coating for easy cleaning and durability. It conducts heat quickly and is a must-have survival gear that built to last for long time.
Easy to Carry: Foldable handles on pot or stove can be folded to save space. Small size and portable, all the objects in this cooking set can be stored together in a mesh bag for convenient carry.
Enjoy Cooking Anywhere You Go: This awesome cookware kit is designed for anyone loves outdoor camping with families and friends! It is super-portable, making it much more convenient for camping, hiking, backpacking, picnic and other outdoor activities!
The Odoland 10-piece Camping Cookware Kit is absurdly cheap and gets you many of the campfire cooking equipment basics you'll need to prepare and serve a meal for two while outdoors.
This camping cooking kit includes a pot, frying pan, kettle, cups, utensils, and a carry bag for tons of convenience and manages to do it all for under $40 at the time of writing this guide.
The surfaces are non-stick and durable, conducting heat evenly and the whole system is collapsible and stores in a bag for easy hauling.
Hauling won't be a chore either, as this whole campfire cooking equipment set comes in at just over 2 pounds. 
Specs:
Dimensions: 7" W X 7" L X 5" D
Weight: 2.09 lbs
What's Included:
1 Nonstick cooking pot (6.5" x 3.5")
1 Lid
1 Frying pan (6.6" x 1.6")
1 Kettle
2 Metal cups
1 Set of locking cutlery (fork, knife, and spoon)
1 Carabiner clip
1 Cutlery pouch
1 Mesh carrying bag
Why We Like It:
Ultra lightweight
Extremely affordable
Great camping cooking set for 2 people
---
GSI Outdoors Pinnacle Dualist II Campfire Cooking Set
GSI Outdoors, Pinnacle Dualist II Camping Cook Set
DURABLE: Crushproof, heat-resistant, nylon lid won't deform in packs and includes an integrated strainer; Folding handle locks into place for cooking and secures entire set for transport
COOKSET FOR TWO: Unique bowl and mug solution with low center of gravity and Sip-It lid virtually eliminate spills while the insulating sleeve keeps drinks hot; Clever folding foon design compacts to just 3.7" long and extends and locks to become a 6.1" fork-spoon hybrid
FUNCTIONAL DESIGN: Convenient graduations molded into the pot make for easy measuring; Handy spout makes it easy to pour water for rehydrating meals or brewing coffee or tea
NON-STICK COATED: The Pinnacle Dualist II is coated with Teflon Radiance Technology for exceptional non-stick performance; Outdoor-exclusive, conduction-enhancing, scratch- and abrasion-resisting
PRACTICAL GEAR: Welded stuff sack holds set while traveling and doubles as a sink or wash basin in camp; Integrated nesting design allows ultralight stoves and fuel canisters to store within set (230 g / 110 g)
The GSI Outdoors Pinnacle Dualist II is a great package of quality open fire cooking equipment that is extremely lightweight, making it ideal for backpacking and campfire cooking for two people.
This mess kit packs a lot of essential campfire cooking equipment in a compact and easy-to-carry package, including sporks, a boiler pot, a unique bowl/mug combo, and even a container for washing your stuff after the meal is over.
The hard-anodized aluminum heatsink design heats up 30% faster, helping you to conserve fuel and time – both precious resources.
The pot even has measuring lines within it, making it easy to get your recipe just right when cooking over a campfire.
Specs:
Weight: 1lb 71.oz
Dimensions: 6.2" L X 5.9" W X 5.8" H
What's Included:
2 Insulated mugs
2 Bowls
2 Folding / telescoping sporks
Strainer lid
Sink sack (for washing dishes)
Boiler pot (1.8L)
Why We Like It:
Great minimalist design packs the essentials you need
Excellent lightweight and durable option for backpackers
Heats fast and is highly durable
Why You Need A Campfire Cooking Kit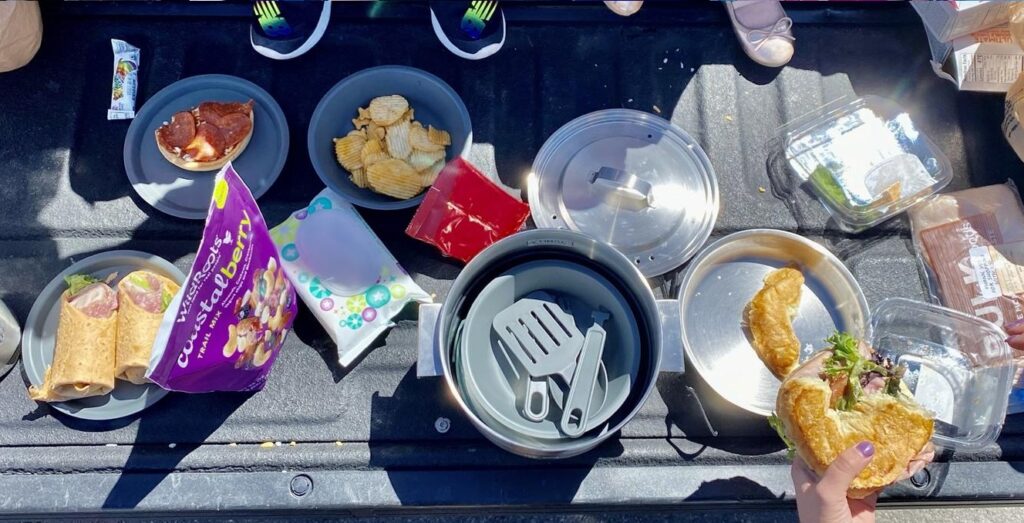 Campfire cooking equipment is specifically designed for cooking over an open flame and providing you some of the common conveniences at home while outdoors, whether you're camping or backpacking.
Most camping cooking kits are compact and lightweight, making them much easier to pack and use compared to bringing your pots and pans from home.
The best of all, you can throw your open fire cooking equipment in with the rest of your camping gear so it's ready to go when you are.
Campfire Cooking Kit Buyers Guide: What To Look For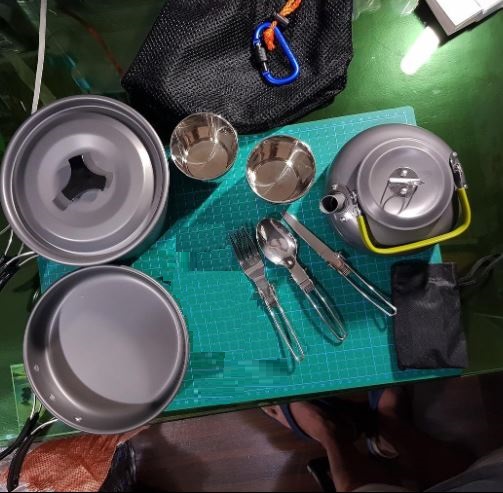 There are tons of campfire cooking kit options out there, so making sure you get the best one will make all the difference when you're on your next camping or backpacking trip.
Here's what to look for:
Make Sure Your Campfire Cooking Kit Is Lightweight
You're going to be hauling your camping mess kit to and from your campsite – or even further if backpacking – so make sure it's as lightweight as possible.
Most of the campfire cooking kits we reviewed here weigh in at under 3 pounds for 2-person options, and under 8 pounds for most 4-person options.

Every ounce matters when you're hauling gear!
Opt for Campfire Cooking Equipment That's Durable
Whether you're looking for weekend warrior camping cookout kits or cowboy campfire cooking equipment, it's got to withstand the demands of outdoor living.
Look for hard-anodized aluminum or stainless steel construction in your pots and pans, and rugged plastic materials that won't warp for additional items like bowls.
Opt for campfire cooking kits that utilize all-metal construction on every included item when possible.
Make Sure Your Kit Has The Right Campfire Cooking Tools
Which campfire cooking equipment set you choose really depends on your personal needs and what kind of meals you plan on preparing while you camp.
If you're mainly heating up dehydrated foods, you can go for a simpler camping mess kit that may only include a boiler pot, while if you plan on making a full on breakfast or dinner you're going to need a kit that includes a pot, frying pan, and even a sauce pot.
Planning ahead here can make a big difference in how much use you'll get out of your kit.
Go For Campfire Cooking Gear That Is Compact
Just like the weight of your gear, it's very important to consider how much space your camping cooking set takes up when it's all compacted together.
Some campfire cooking kits are less than half a foot wide and deep when fully closed, making them easy to transport inside your backpack, and some can even be clipped on to your bag with a carabiner, saving you extra needed space.
Keep the form factor in mind when choosing your kit.
Ensure Your Campfire Cooking Set Can Be Used Over An Open Flame
Most all of the campfire cooking kits we reviewed in our guide here can be used over an open flame, which is a critical component you have to be sure of.
Using flimsy cooking equipment or pots and pans that aren't intended for use on campfires will destroy both the equipment and your food which is a bad experience all around.
Make sure your mess kit can handle the heat – literally!
DIY Campfire Cooking Kit Essentials: What You'll Need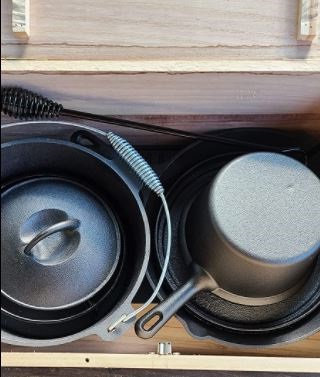 If you're having trouble finding the exact combination of campfire cooking equipment to meet your needs, don't worry: you can put together your own DIY campfire cooking kit and customize everything to exactly what you want.
Here are some items you'll want to include:
Cooking pots (you may need both a large pot for boiling and a sauce pot)
Frying pan
Cooking utensils (like spatulas, tongs, and spoons)
Cutlery (camping sporks save space and are efficient)
Tableware (like cups, bowls, and plates) – choose collapsible ones if possible
Dishwashing & cleaning supplies (like a dishwashing cloth, hand towel, and small wash tub)
Water container
Fire starters
Trash receptacle
You can store everything in a mesh bag or spare backpack or duffel bag you have around the house so it's convenient and ready to go when you hit the road for camping.
The Best Campfire Cooking Kits: Wrapping Things Up
We hope this guide helped you to find the best campfire cooking equipment kit for your needs.
As long as you keep your situation and intended use top of mind, you're sure to pick the right set.
What campfire cooking gear kit did you go with, and how did it work for you?  Let us know in the comments below.
While you're here, check out our other helpful camping guides: