Today we've got an in-depth Origami Paddler review to satisfy every kayaker and paddleboarder's curiosity.
The Paddler has been intriguing many water enthusiasts since it's initial launch on Kickstarter a few years back, so we thought a full review was well overdue.
Looking for a kayak and paddleboard combo that is affordable, portable, and easy to use? Look no further than the Origami Paddler!
In this review, we will discuss the pros and cons of this kayak/paddleboard hybrid along with everything else you need to know.
Origami Paddler Review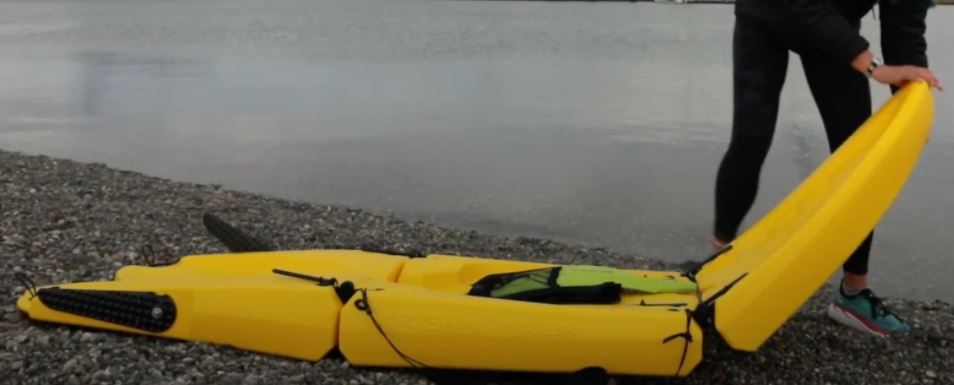 The Origami Paddler is a kayak and paddleboard combo that is perfect for anyone who loves to spend time on the water.
The Origami Paddler promises flexibility and portability in one convenient package, but does it deliver?
Fortunately, yes: the Origami Paddler is both portable and flexible, but there are some sacrifices you must be willing to make when choosing it.
The Bottom Line: The Origami Paddler is a unique entry into the hybrid space that is great for those with small vehicles or little storage space at home who are looking for a way to get into both kayaking and stand up paddleboarding without breaking the bank.
What Is The Origami Paddler?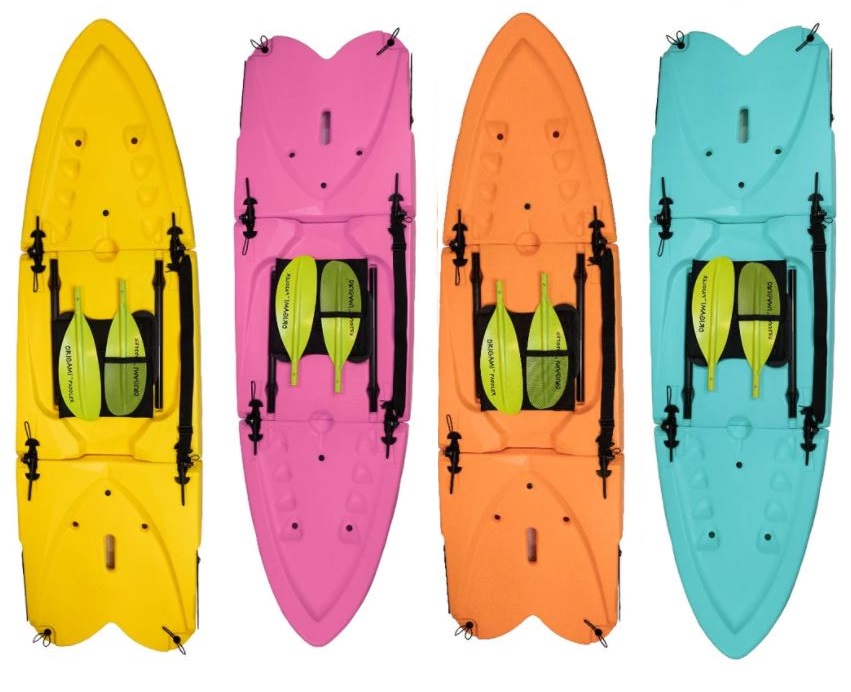 The Paddler by Origami is a hardshell kayak and paddleboard combo that has a patented design that breaks down into three pieces, allowing you to transport and store the unit much more easily than a traditional kayak or paddleboard.
It's essentially designed like a thicker surfboard with several indents on it that you can use to sit or stand on depending on which activity you're enjoying.
The Origami Paddler was designed by the founder of Ocean Kayak and is made in the USA.
Origami Paddler Specs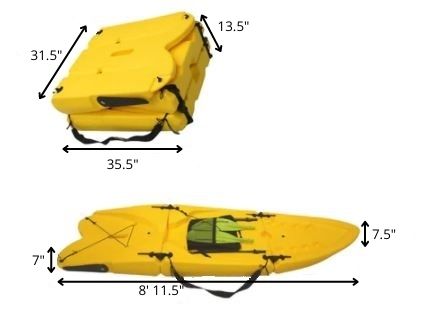 Dimensions: 8′ 11.5″ long X 32″ wide (unfolded)
Dimensions: 35.5″ wide x 31.5″ long x 13.5″ tall (folded)
Weight: 45 lbs
Thickness: 7-7.5″
Metric Dimensions: 274cm long x 81cm wide (unfolded)
Metric Dimensions: 90cm long x 81cm wide x 34cm tall (folded)
Maximum Weight Capacity: 250lbs
# Of People: 1 Person (max capacity)
What Comes With The Origami Paddler?
Here's what you get with every Origami Paddler purchase:
Origami Paddler hybrid kayak / paddleboard combo
Seat / backrest
Double-bladed paddle (82″ from blade to blade)
How Does It Work?

The Origami Paddler has three separate pieces that are latched together using unique latches that have three separate modes: one that unlocks fully so you can take the pieces apart, another that locks the latches in place but allows them to hinge and fold, and the third position locks them in place when the Paddler is in use in the board position.
Each of the three separate sections have drain plugs which work like pressure release valves because they let air in and out of each chamber while keeping water out of them, which is the same type of system used on the majority of Ocean Kayaks.
The seat/backrest attaches with straps, and the included paddle comes in four separate parts and serves dual purposes as both a kayaking and stand up paddleboarding (SUP) paddle.
It's extremely durable and puncture-resistant, and the paddles store inside the hybrid unit when it's folded up.
Is The Origami Paddler Good?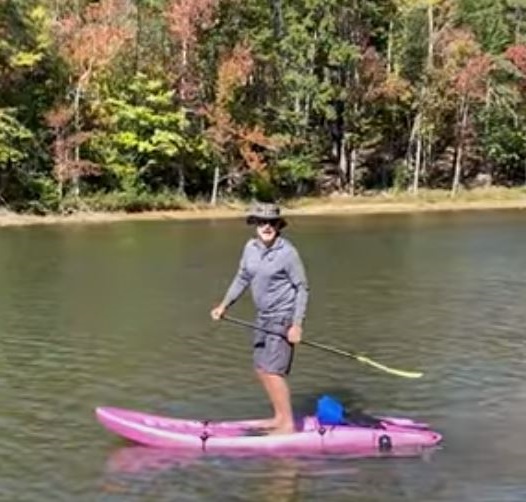 We're sure you're dying to know: is the Origami Paddler worth it?
All in all, the Origami Paddler is a great value for the price point and delivers the goods in making a highly portable kayak/paddleboard option for those who can't (or don't want to) strap the unit to the top of their vehicle or may not have storage space for it.
Speed
It's not the fastest SUP or kayak available out there, but to be fair, that was never the intent of the Paddler: it's unique value comes in the extreme portability and small footprint when broken down.
Tracking
It's twin fin system has two separate 12″ long fins that help keep the tracking very straight, especially for a small boat, and the fact that it never takes on water also helps to alleviate any capsizing concerns.
Stability
The stability is great because of it's lower center of gravity, which is important whether you're using it as a kayak or SUP.
Design
We love it's compact folding design, and we think overall you'll end up spending more time out on the water simply because transporting setting up the Origami Paddler is so easy.
Ease Of Use
Setting up and breaking down the Paddler is a cinch, taking less than a minute with just one person.
That sure beats lugging your kayak to and from the water, hoisting it up on your car's roof racks, and messing with straps to secure it in place!
Appearance
The Origami Paddler is sure to turn heads thanks to it's unique appearance, with it looking like a very shallow sit-on-top kayak or a thicker-than-usual paddleboard.
It comes in four colors for you to choose from: Citrine Yellow, Carnelian Orange, Turquoise Blue, and Rhodochrosite Pink.
Origami Paddler Pros & Cons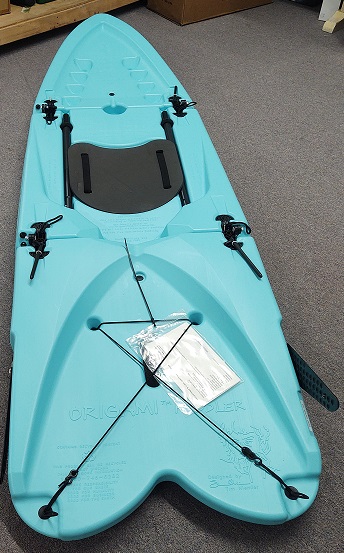 Pros
Versatile: works as a sit-on-top kayak (SOT kayak) or stand up paddleboard (SUP)
Easy to store
No assembly required- just unfold it & you're ready for action
No roof rack needed – fits in most car trunks
Highly durable
Stable ride
Straight tracking for a small vessel
Flat space for you to bring along your pet
Doesn't take on water
Eco-friendly: made of recycled and recyclable materials
Included paddle and seat fold up into the unit for saving space
Made in USA
Cons
Each function (kayak or paddleboard) is sacrificed a bit because it is not a dedicated unit for either
Hinges can wear over time and their exposed nature can hurt if you step or fall on them
Very little room for onboard storage
Flex at the joints due to folding construction can lead to high wear over time
Not intended to be used "forever"
Origami Paddler Price
One of the best things about the Origami Paddler is its price point. The standard pricing is $799.99, but occasionally it will go on sale at just under $600.
This kayak/paddleboard combo is very affordable when compared to similar products on the market at either price.
Origami Paddler Accessories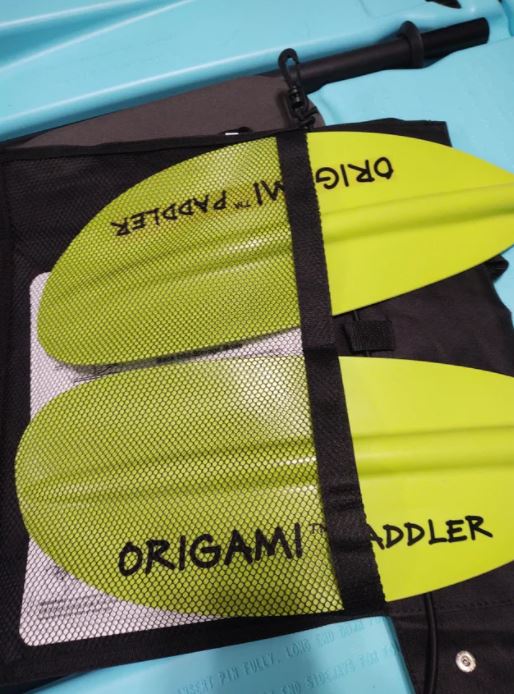 There are quite a few accessories available for the Origami Paddler at launch:
Freedom Cart
Deck Tie Down Kit
Ankle Leash
Dry Bag
Shoulder Strap
Replacement Paddle
Traditional Stand Up Paddleboard Handle
Folding Seat with Pocket
Replacement Hinges
Sports Lifevest
Wrapping Up Our Origami Paddler Review
We hope you enjoyed reading our Origami Paddler review. This hybrid kayak/paddleboard is perfect for those who don't have a lot of storage space or roof racks on their car, and want an easy way to transport their boat to and from the water.
It's also great for those who want the versatility of being able to use it as either a kayak or SUP, and we think the price point is very reasonable considering all that you get.
While it may not be the fastest kayak or paddleboard out there, it's still a ton of fun to use and we think you'll enjoy taking it out on the water time and time again.
Thanks for reading! We'd love to hear your thoughts on the Origami Paddler in the comments below.
Be sure to check out our other helpful kayaking guides while you're here: