RV salvage yards are an invaluable resource for RV owners seeking affordable parts to maintain or repair their recreational vehicles. These specialized junkyards house a vast selection of used and surplus components from various makes and models of RVs, enabling owners to find the necessary pieces at significantly lower costs compared to buying new parts. Beyond savings, these yards offer a sustainable, eco-friendly option for repurposing useful components from otherwise discarded RVs.
For an RV owner, it is essential to have access to accurate information about the available RV salvage yards by state and their inventories. Identifying a reliable yard with the right parts may sometimes be tricky, making it crucial to research beforehand and understand the reputability of the salvage facilities. Some yards have online listings of their inventory, which could save valuable time and effort when searching for specific parts.
We've compiled a list of RV salvage yards by state along with their contact information to help you find the RV parts you need.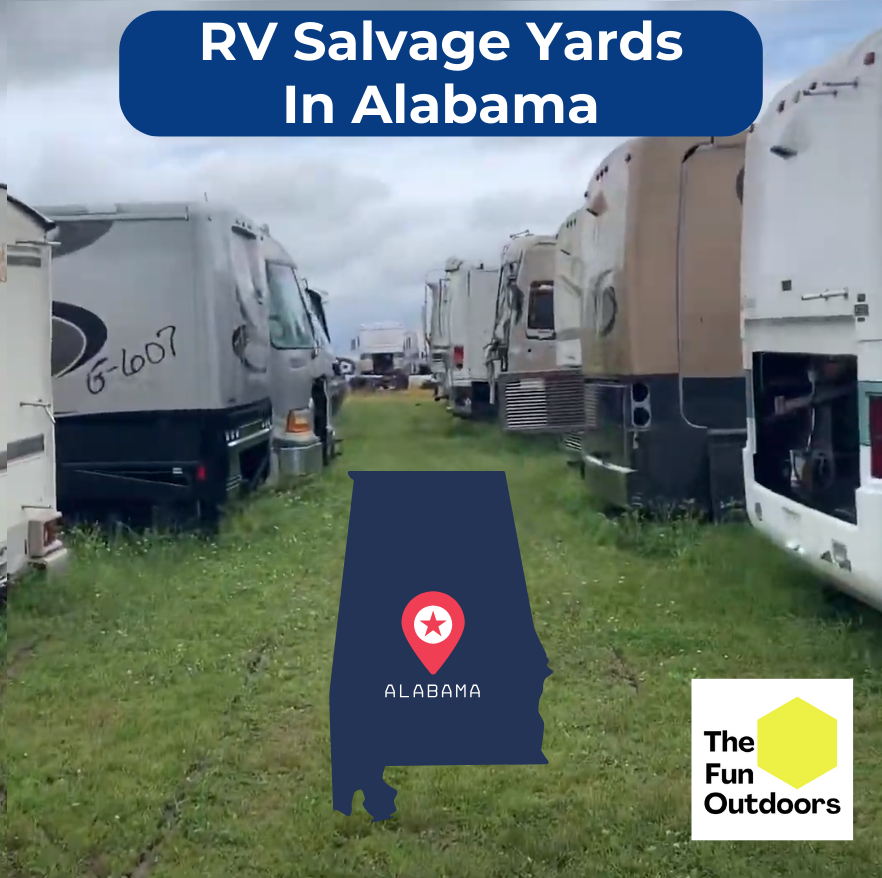 What Is An RV Salvage Yard?
An RV salvage yard, also known as an RV junkyard, is a large parking lot filled with old and damaged RVs, travel trailers, 5th wheels, popup campers, and other mobile homes. These vehicles often end up in a salvage yard because they have been in accidents or suffered major mechanical damage, rendering them unfit for life on the road.
Salvage yards offer a valuable resource for RV owners seeking quality parts at affordable prices. By browsing through the inventory of available vehicles, customers can find and purchase the specific components they need for repairs or upgrades at a fraction of the cost of new parts. This not only saves money but also promotes sustainable practices by repurposing and recycling used components.
Visiting an RV salvage yard can be an enlightening experience for both novice and seasoned RV enthusiasts. They provide insights into common issues and preventative measures one can take to prolong the life of an RV. The salvage yard staff are often knowledgeable about various RV models and component compatibility, making it easier for customers to find suitable parts.
To locate an RV salvage yard near you, use our directory organized by state. Keep in mind that some salvage yards may not have a physical storefront, while others may operate primarily online. When contacting a salvage yard, it is recommended to provide accurate information about your RV, including the make, model, and year, as well as a detailed description of the needed part to ensure the best possible match.
Benefits of Choosing RV Salvage Yards
RV salvage yards offer a treasure trove of used parts for recreational vehicle owners looking to save money on their repairs, maintenance, and upgrade needs. Salvage parts can provide numerous benefits when compared to purchasing new ones, some of which include cost savings, eco-friendliness, and supporting local businesses.
One of the primary advantages of choosing RV salvage yards is the opportunity to save money on parts. Used RV parts are often significantly more affordable than their brand-new counterparts. By opting for salvage parts, owners can reduce the overall expenses associated with maintaining their recreational vehicles.
In addition to cost savings, using used parts from RV salvage yards is an eco-friendly option. Instead of contributing to the manufacturing of new parts and the associated production waste, choosing used components helps reduce the environmental impact of RV maintenance and repairs.
Another benefit of patronizing RV salvage yards is the chance to support local businesses. Many smaller cities and towns lack a dedicated RV parts store, so residents are often forced to order parts from large, online corporations. Salvage yards, however, are generally locally-owned, which allows customers to support their communities while saving money.
RV junkyards offer a vast selection of surplus and hard-to-find parts. Owners with older or less-common recreational vehicles can browse these yards for unique components they may struggle to source elsewhere. This not only makes it more convenient for RV owners to locate the parts they need but also keeps otherwise functional components out of landfills.
Drawbacks Of RV Salvage Yards
One major drawback of RV salvage yards is the difficulty in finding newer camper parts. Often, RV salvage yards primarily contain older models that have sustained damage or have been deemed unfit for the road. As a result, it can be challenging to find parts for newer makes and models in these lots.
It also often takes extra work and time to find the required parts in an RV salvage yard. Sifting through the various lots to find what you need can be time-consuming, and you may need to visit multiple yards to find the right components for your RV. 
Another hurdle is the potential unreliability of used RV parts purchased from these yards. Since the items are typically salvaged from damaged or inoperable RVs, there is a risk that the parts themselves may not be in the best condition or function as expected.
Navigating the inventory in an RV salvage yard might seem overwhelming at first, but with a little bit of preparation and a systematic approach, you can find exactly what you're looking for. Here's a guide on how to best navigate RV salvage yard inventory.
First, it's vital to know the specific parts you're seeking for your RV or camper. Create a list of needed parts with their corresponding details, such as make, model, and year. This will help streamline your search and save time when you arrive at the salvage yard.
Before heading to the salvage yard, consider doing some research on used camper parts online. This can help you get a sense of the availability and ballpark pricing for parts you're interested in. Keep in mind, RV salvage yards typically boast a wide selection of parts at more affordable rates compared to new parts, so take note of online prices for negotiation purposes.
Upon arriving at the RV salvage yard, you may find the inventory organized by RV type, such as motorhomes, travel trailers, fifth wheels, and pop-up campers. Familiarize yourself with the layout of the yard to efficiently navigate the inventory. Don't be afraid to ask staff members for guidance, as they can help you locate specific sections where the desired parts might be located.
When searching for used camper parts, thorough inspection is crucial. Always check for signs of damage, wear, and tear, as well as compatibility with your RV or camper. If necessary, bring tools to remove the parts yourself, as some salvage yards may require you to do so. Additionally, ask about any warranties they might offer on their used parts.
Don't forget the importance of negotiation when purchasing parts from an RV salvage yard. Given the nature of used items, prices are often more flexible, so don't be shy to discuss your findings from your online research. By bargaining you can save even more money on your purchase.
Repairing Your RV Using Salvage Parts
Finding the Right Parts
To repair your RV while saving money, consider using salvage parts. RV salvage yards offer an extensive range of camper parts and accessories, which are usually sourced from wrecked RVs. 
It's a good idea to have the make and model of your RV handy, as well as any part numbers you may need, as this information will help you quickly find compatible parts.
Quality Assessment
Though RV salvage yards provide a cost-effective solution for RV maintenance, it's important to assess the quality of the parts before purchasing. Salvage yards typically have parts that are cheaper than their brand-new counterparts, but you should ensure that these parts function well and do not compromise your RV's performance or safety. When assessing the quality of a used part, inspect it carefully for signs of damage, corrosion, and wear. If possible, test the functionality of the part before making the purchase.
Buying used parts from RV salvage yards can help you save money and contribute to a more eco-friendly approach to RV maintenance. Just remember to carefully choose the right parts and assess their quality to ensure a successful RV repair.